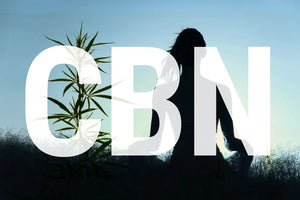 The Sleep Deprivation Epidemic: Reclaiming Your Energy, Focus, and Well-being
When it comes to achieving a good night's sleep, many individuals are turning to alternative remedies. One such remedy gaining attention is Cannabinol (CBN), Unlike CBD, CBN is primarily known for its potential sedative properties and is often associated with promoting relaxation and sleep. While CBD is more versatile and has a broader range of potential effects, including anti-inflammatory and anxiolytic properties, CBN is specifically recognized for its potential as a sleep aid. In this blog, we will explore the benefits of CBN for sleep, drawing from research and scientific findings.

Promoting Restful Sleep:
One of the primary benefits associated with CBN is its potential to promote restful sleep. Research suggests that CBN may have sedative properties, helping individuals fall asleep faster and enjoy more uninterrupted sleep throughout the night. By soothing the mind and body, CBN can contribute to a deeper and more rejuvenating sleep experience, allowing you to wake up feeling refreshed and revitalized. 

Improving Sleep Quality:
CBN may also play a role in enhancing sleep quality. Studies indicate that CBN could reduce sleep disturbances, such as waking up frequently during the night or experiencing difficulty falling back asleep after waking up. By improving sleep continuity, CBN may help individuals achieve more prolonged periods of deep and restorative sleep, leading to improved cognitive function, mood, and overall well-being.

Natural Alternative to Traditional Sleep Aids:
One significant advantage of CBN as a sleep aid is its potential natural origin. Unlike prescription sleep medications that often come with unwanted side effects and the risk of dependency, CBN is derived from cannabis, which has been used for centuries as a medicinal plant. By opting for CBN, individuals can explore a potential sleep solution that aligns with a more natural and holistic approach.

Facilitating Deep Sleep for Enhanced Sports Recovery:
CBN's potential to facilitate deep sleep makes it an intriguing option for athletes and individuals involved in intense physical activities. Deep sleep, also known as slow-wave sleep, is a crucial stage of the sleep cycle during which the body repairs and rejuvenates itself. It plays a vital role in muscle recovery, tissue repair, and the release of growth hormone, which is essential for muscle development and improved overall sports performance. Incorporating CBN into a comprehensive recovery routine, alongside proper nutrition and training, may offer athletes an additional edge in sports recovery.

Furthermore, the entourage effect, as suggested by research, indicates that CBN may work synergistically with other cannabinoids and compounds in cannabis, such as CBD, to enhance its sleep-inducing effects. Natural sleep support products like 5280Holistics CBD/CBN Sleep Support Gummies utilize both Broad Spectrum CBN, CBD a natural herbal blend to help promote a deep, restful nights sleep.
Blog Cites: 
Promoting Restful Sleep:
Babson, K. A., Sottile, J., & Morabito, D. (2017). Cannabis, Cannabinoids, and Sleep: a Review of the Literature. Current Psychiatry Reports, 19(4), 23. doi: 10.1007/s11920-017-0775-9

Improving Sleep Quality:
Shannon, S., Opila-Lehman, J. (2016). Effectiveness of Cannabidiol Oil for Pediatric Anxiety and Insomnia as Part of Posttraumatic Stress Disorder: A Case Report. Permanente Journal, 20(4), 108-111. doi: 10.7812/TPP/16-005

Natural Alternative to Traditional Sleep Aids:
Russo, E. B. (2019). The Case for the Entourage Effect and Conventional Breeding of Clinical Cannabis: No "Strain," No Gain. Frontiers in Plant Science, 9, 1969. doi: 10.3389/fpls.2018.01969

Facilitating Deep Sleep for Enhanced Sports Recovery:
Charnsil, C., Sripalakit, P., & Charnsil, W. (2021). Effects of Cannabis on Sleep and Sports Performance: A Systematic Review. Sports Medicine - Open, 7(1), 1-14. doi: 10.1186/s40798-021-00308-1
---